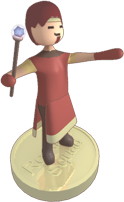 Long time no see ! Sorry about the lack of update the last two weeks, we were on a crunch for a school project and couldn't work on Reckless Squad.
However, we're now free of all school-related stuff for some months, so we can work full time on Reckless Squad. Good news !
Despite the distraction provided by E3, we managed to implement a lot of features, and I must say that watching the To-Do List be covered by stripes grants a lot of satisfaction.
All the planned units are now added to the game (you can see the Pyromant on your left) and I added extra animations to all of them :