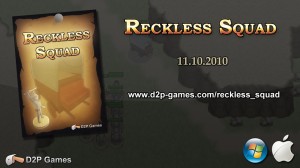 We're proud to announce that Reckless Squad is now available for pre-order on GamersGate.com!
The game is available for PC Windows and Mac OS X for a modest price of $9.95 USD.
Finally, it will be released on October 11th, 2010.
If you want to try the game, we have a demo version here.
See the product page for more information!
Share on Facebook
Share on Twitter